News
EXHIBITION of the student projects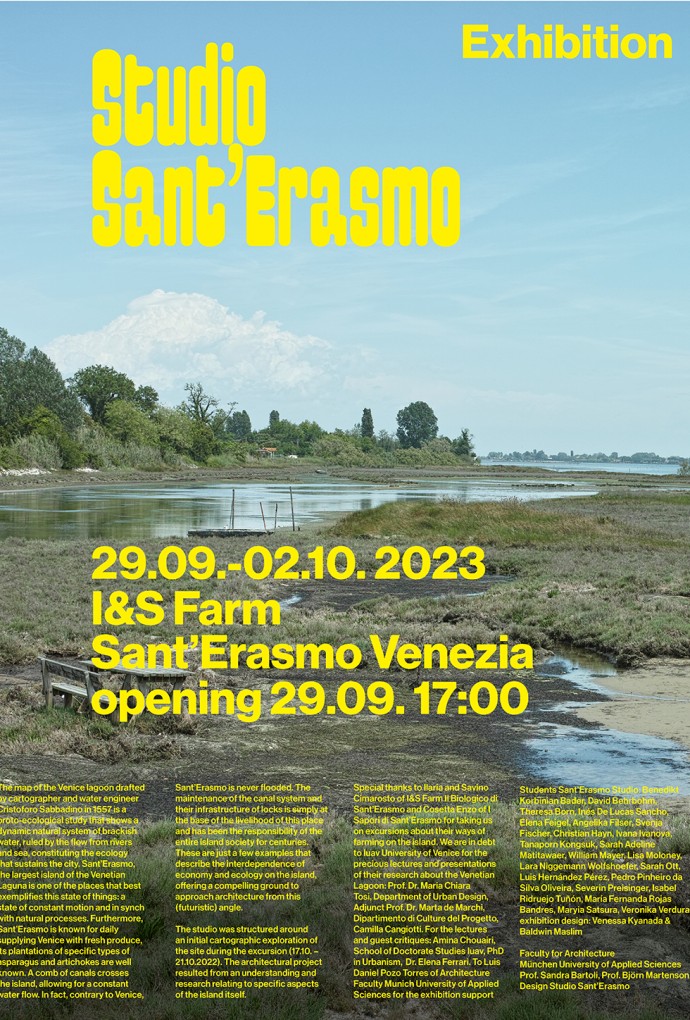 MA Design Studio SANT'ERASMO Prof. Sandra Bartoli, Prof. Björn Martenson I&S Farm, Sant'Erasmo Venezia 29.09.- 02.10.2023
29/09/2023
Studio Sant'Erasmo Students: Benedikt Korbinian Bader, David Behrbohm, Theresa Born, Inés De Lucas Sancho, Elena Feigel, Angelika Filser, Svenja Fischer, Christian Hayn, Ivana Ivanova, Tanaporn Kongsuk, Sarah Adeline Matitawaer, William Mayer, Lisa Moloney, Lara Niggemann Wolfshoefer, Sarah Ott, Luis Hernández Pérez, Pedro Pinheiro da Silva Oliveira, Severin Preisinger, Isabel Ridruejo Tuñón, María Fernanda Rojas Bandres, Maryia Satsura, Veronika Verdura.
Exhibition Design: Venessa Kyanada & Baldwin Maslim
The map of the Venice lagoon drafted by cartographer and water engineer Cristoforo Sabbadino in 1557 is a proto-ecological study that shows a dynamic natural system of brackish water, ruled by the flow from rivers and sea, constituting the ecology that sustains the city. Sant'Erasmo, the largest island of the Venetian Laguna is one of the places that best exemplifies this state of things: a state of constant motion and in synch with natural processes. Furthermore, Sant'Erasmo is known for daily supplying Venice with fresh produce, its plantations of specific types of asparagus and artichokes are well known. A comb of canals crosses the island, allowing for a constant water flow. In fact, contrary to Venice, Sant'Erasmo is never flooded. The maintenance of the canal system and their infrastructure of locks is simply at the base of the livelihood of this place and has been the responsibility of the entire island society for centuries. These are just a few examples that describe the interdependence of economy and ecology on the island, offering a compelling ground to approach architecture from this (futuristic) angle.
The studio was structured around an initial cartographic exploration of the site during the excursion (17.10. – 21.10.2022). The architectural project resulted from an understanding and research relating to specific aspects of the island itself.
We would like to thank Ilaria and Savino Cimarosto of I&S Farm Il Biologico di Sant'Erasmo for generously hosting the exhibition. I&S Farm and Cosetta Enzo of I Sapori di Sant'Erasmo for taking us on excursions about their ways of farming on the island. We are in debt to Iuav University of Venice for the precious lectures and presentations of their research about the Venetian Lagoon: Prof. Dr. Maria Chiara Tosi, Department of Urban Design, Adjunct Prof. Dr. Marta de Marchi, Dipartimento di Culture del Progetto, and Camilla Cangiotti. For the guest lectures and studio critiques: Amina Chouairi, School of Doctorate Studies Iuav, PhD in Urbanism, and Dr. Elena Ferrari. For the exhibition support Luis Daniel Pozo Torres of the technical team of the Faculty of Architecture, Hochschule München University of Applied Sciences
MA Design Studio SANT'ERASMO, Prof. Sandra Bartoli, Prof. Björn Martenson